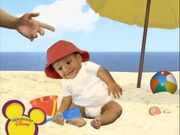 The Beach is a location of Go Baby! It is just like any beach in real life.
Just like any other beach, it has the ocean and sand. There is a umbrella set up and a colorful beach ball. There is also a shell possibly a crab's shell. There is also a red pail and a blue shovel.
The bech has only appered in 1 episode. Here is the episode:
Sophie is the only character not to visit this location.